February 24, 2022
Posted by:

Author Anoma

Categories: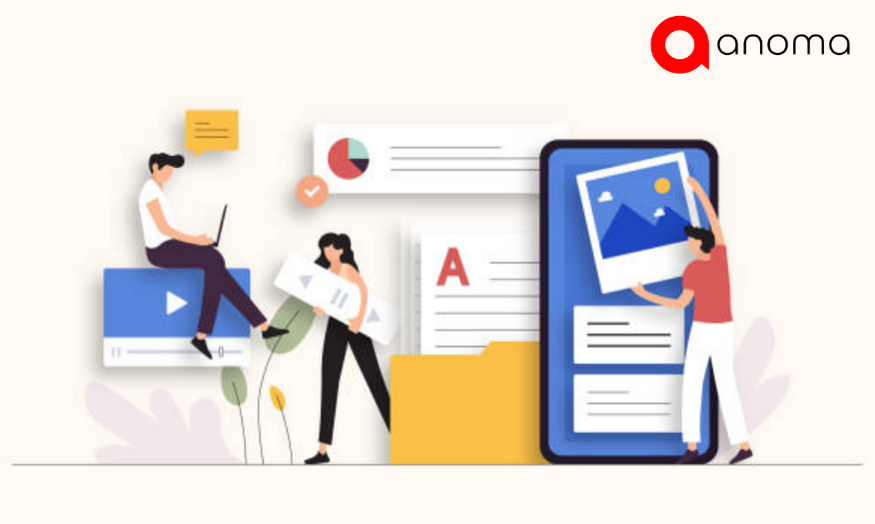 " Your mobile device has quickly become the easiest portal into your digital self. "
Some business mobile app developments are extremely useful, practical, intuitive, and downright entertaining to use.
What distinguishes them? When it comes to mobile applications, what features and app design elements separate the wheat from the chaff?
These characteristics are required for the development of well-received mobile users.
1. Search feature shown in Mobile application:
Provide your mobile app users with an easy-to-use search bar so they can quickly find the content they require.
A lot of content makes for a great mobile app design, but if it isn't easily accessible to the mobile user, it quickly becomes cumbersome and unusable. Most top-tier apps include a dedicated search function that allows users to find content that contains relevant keywords and key phrases. This adds to the convenience and accessibility of the mobile app.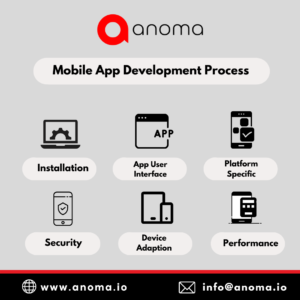 2. Networking Capabilities on social media:
Social media sharing is no longer limited to cat videos and child pictures. When it comes to communicating and collaborating with other people you know online, social media apps have already made their mark, particularly among workers who are geographically separated and between workers and their customers. Make this simple and seamless by integrating social sharing (along with email sharing) directly into your mobile app.
" The future of mobile is the future of online. It is how people access online content now. ''— David Murphy
3. Developing Responsive Mobile Apps for Different Screen Sizes:
Creating mobile apps for Android and/or Apple devices is no longer enough. Designing mobile apps for Android and/or Apple devices is no longer sufficient. Most mobile app developers must also consider the variety of screen sizes available, ranging from small 'compact' and 'mini' phones to larger tablets.
Some smartphones have screens that are nearly the size of a small tablet. The iPhone XS Max, for example, has a 5.8-inch screen, which is less than 1.5-inch smaller than the smallest consumer-grade tablets.
Make sure that responsive app design is incorporated using 7 Features of Mobile Application Development – Anoma Tech so that all of these users have a fantastic design experience.
4. Multiple Versions for Respective Mobile Devices:
Similarly, you can't afford to ignore any of the popular platforms. While BlackBerry used to rule the business world and Apple had a firm grip on the consumer market, BlackBerry devices are now obsolete due to the fact that they realized too late that they needed to adopt Android operating systems in order to remain relevant, and Android devices constantly compete with Apple in both the business and consumer markets. Nonetheless, Apple has such a large market share that it cannot be ignored. With relevant UK mobile app development services, create a mobile app product for each of these platforms so that you don't alienate a large segment of your users right away.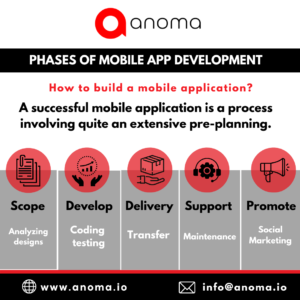 5. Less Keyboarding and More Smartphone Screens:
When users are using a keyboard and mouse to access your website services, you can ask them a lot of questions and they can type, type, type away. This is not the case when it comes to mobile app design. Create the app with 7 Features of Mobile Application Development – Anoma Tech has as little use of the keyboard as possible and makes as much of the user experience as touch-based as possible.
" The effective Apps description is your first success milestone '' — Youth Apps
6. Allow for Convincing User Feedback:
Sometimes the user simply needs to express themselves. Giving users the ability to provide immediate feedback is rewarding and reduces the number of calls to the tech support department.
Allowing users to provide feedback provides you and your mobile app development team with valuable insight into what you should add, remove, and change.
7. The ability to work while not connected to the internet:
Provide as much app usability as possible without an Internet connection. This feature must, of course, be balanced against the issue of data protection and security.
While you don't want to load sensitive data on mobile devices that will be spending a lot of time on crowded commuter trains and coffee shops, you do want to be able to do some work if Internet access isn't available. What and how much data and functionality is stored on the device is determined by the needs of your specific Features of Mobile Application Development – Anoma Tech
Features of Mobile Application Development – Anoma Tech
As you can see, there is a lot that goes into designing a fantastic mobile app that users adore. Most businesses decide that a professional developer is more suitable for the job than their in-house mobile app development agencies.
Speak with us at Anoma today to get started on your new mobile app!