May 10, 2022
Posted by:

Author Anoma

Categories: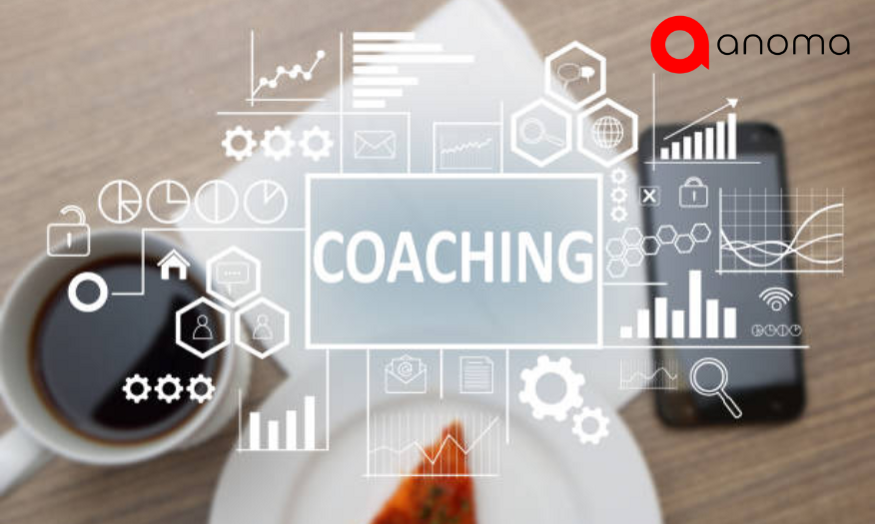 " A good coach can change a game. A great coach can change a life '' — John Wooden
Leadership Coaching – Anoma Tech for executives has a proven track record of success. Management coaching is also benefiting an increasing number of middle management professionals. Coaching on leadership management skills enables managers to be more effective in their interactions with their teams and peers. It aids in the development of their confidence and abilities as managers in a variety of dynamic work environments.
Having well-trained managers with superior skills allows organizations to achieve their objectives more quickly. However, these same managers must increasingly assume the role of coach, rather than just manager or leader, for members of their own teams.
You might be wondering what the difference is between managing and coaching, and when to use which approach.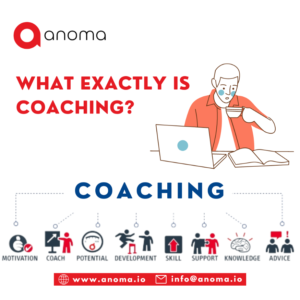 Let's take a closer look at the differences between coaching and managing,
What exactly is coaching?
The ability to guide, assess, influence, and motivate your employees is referred to as coaching. Effective coaching increases their commitment to their work while also promoting their Leadership Coaching – Anoma Tech
Coaching is unlocking a person's potential to maximize their own performance. — Timothy Gallwey
It also enhances:
1. Employee involvement
2. Performance
3. Autonomy
4. Logical thinking abilities
5. Attitude
Coaching employees entails working together with your team members. You guide them by providing technical and emotional assistance. A Leadership Coaching – Anoma Tech style instills confidence in your team and assists them in changing negative behaviors and attitudes. It also helps them advance professionally
What exactly is management?
Giving direct instructions and supervising the work of your employees or direct reports is part of managing. This is not the same as coaching. The goal of management is to ensure that employees meet their objectives within the time frame that has been agreed upon. The emphasis is on task completion and achieving results.
A good manager must have people skills, experience, as well as technical and decision-making abilities. You should also be goal-oriented, as well as kind but firm. Your ability to achieve results is what determines your performance.
Coaching is a universal language of change and learning — CNN
Here are some scenarios in which to employ management techniques:
1. Task distribution
2. Work delegation Monitoring and evaluating progress
3. Educating new employees
4. Executive decision-making
5. Meeting goals and deadlines
6. Problem-solving and conflict resolution
7. Responding to crises
7 tips for improving your coaching and management abilities
The best leaders understand how to combine coaching and management skills in order to motivate and inspire their employees.
To improve your Leadership Coaching – Anoma Tech, consider the following suggestions:
1. Improve your listening skills:
Coaches engage in active listening. It requires you to concentrate on what the other person is saying rather than your own thoughts on the subject. When they have finished speaking, repeat back to them what you have heard in your own words. This will assist you in ensuring that you have correctly understood them. It also gives the other person a sense of being seen and heard.
2. Ask high-mileage questions:
A high-mileage question encourages your employee to open up and discuss the issue at hand in depth. Avoid yes/no questions because the answers will not provide sufficient information. Instead, pay attention to questions that begin with what, why, how, who, or when. Use questions like "what would it look like if…?" to encourage your employees to imagine new outcomes and possibilities.
Management is doing things right, Leadership is doing the right things — Peter Drucker
3. Be a source of inspiration and encouragement:
Employees who are motivated and feel seen and supported are more engaged. As a result, they will be more motivated at work. Rather than criticizing or blaming, boost your teammates' morale by emphasizing the importance of their work. When providing feedback, ensure that it is constructive and focuses on your employee's future growth. Avoid discussing any past blunders.
4. Demonstrate a growth mindset:
Leaders must set a good example by modeling the behaviors they want to see in their company culture. Encourage a coaching culture by giving your employees space and allowing them to participate in decision-making. Continue to be inquisitive and open to all possibilities. Consider difficulties to be opportunities for growth and improvement.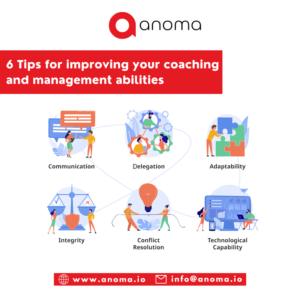 5. Make your vision clear:
Visionaries are leaders. If you want to lead others, you must have a clear vision of where you want to take them. This is essential for successfully leading any size team.
6. Be an effective communicator:
To effectively manage people, you must communicate directions and instructions clearly and concisely.
Management is nothing more than motivating other people — Lee Iacocca
7. Consider your options strategically:
Managers who can see the big picture are more effective. They understand how to lead their teams through day-to-day challenges in order to achieve the organization's goals.
To be a Leadership Coaching – Anoma Tech, you must combine management skills with coaching abilities. It is not a question of coaching versus management, but of doing both effectively and at the right time.
Both will help you get the most out of your employees. They will be more content, committed, and productive.
And, if you need help sharpening your skills, come to our website today.