September 12, 2022
Posted by:

Author Anoma

Categories: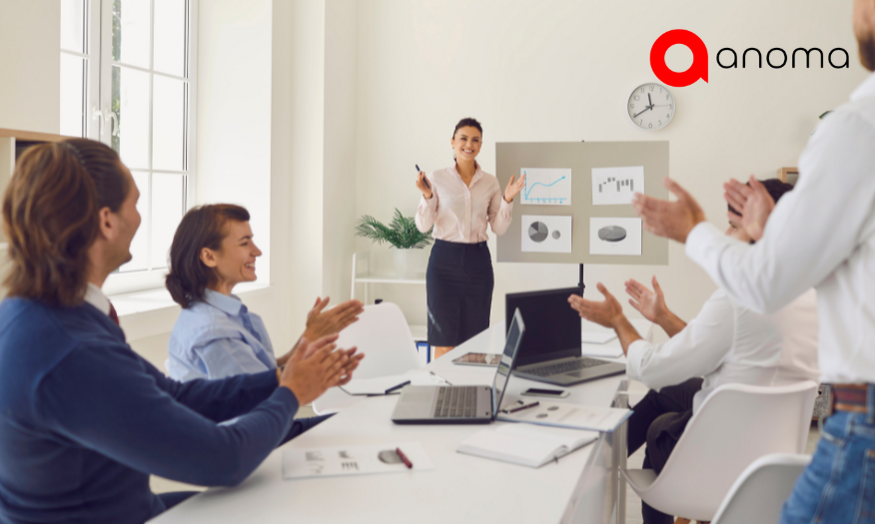 Building a positive company culture through Employee Recognition – Anoma Tech entails much more than simply presenting a gift. It should go without saying that giving your employee a mug as a token of appreciation is rarely a good idea, right?
The article includes five best practices that businesses can implement to increase productivity and reduce attrition. In other words, they demonstrate five strategies for increasing employee engagement through recognition.
Let's take a quick look at each best practice and see how Anoma can help your office foster a culture of recognition and gratitude.
1. Identify People Using Specific Results and Behaviours:
Recognition that is timely, appropriate, and specific can mean the difference between a ceramic mug and a meaningful gift, even if that gift is a handwritten card that improves your recognition efforts in various ways, and you can recognize individuals or groups.
Include various recognition programs for sales incentives, new hires, account managers, and any other group you can think of. Build cohesive teams that achieve goals together, and scale those programs as your teams grow. Recognize and reward based on those group (or individual) specific metrics.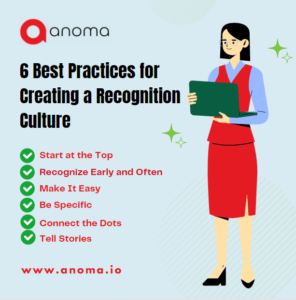 2. Implement Peer-to-Peer Recognition Rather Than Top-Down:
" Recognition from leaders has less impact than you might think. While HR managers believe this is an important success factor, employees told us that being recognized by their peers makes them feel much better. " Allow your employees to celebrate one another by implementing peer recognition programs.
Creating a space for shout-outs, congratulations, and support can help to strengthen team unity, you can empower your employees to recognize and reward one another and you can have a public feed to display all of the recognitions that are bound to come with such a program, allowing everyone to see how well their peers are doing.
3. Show Your Recognition Story:
You can easily track the rewards and recognitions given within your platform using powerful reporting capabilities. These reports provide an overview of recognitions and make it simple for managers to share recognition stories with others as they occur. Celebrating accomplishments fosters a sense of gratitude and can significantly impact your company culture.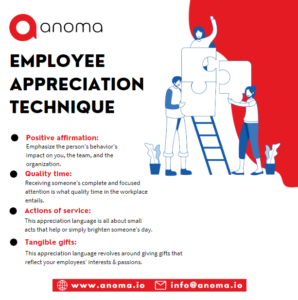 4. Make recognition simple and familiar:
" Make it as simple as possible for employees to recognize one another. "
While many businesses have some sort of recognition program, it is frequently underutilized or forgotten. You can easily automate your recognition programs and apply them to your team, department, or the entire organization.
5. Connect Recognition to Your Company's Values or Goals:
Every business has its own distinct culture. Your Employee Recognition – Anoma Tech requires different skills and attributes than those in the office next door, and rightly so! Recognize and reward employees who embody company values in an excellent way to connect achievements to the organization's goals.
At Anoma tech, We employ the most talented top-tier resources in the USA and also across the globe primarily in Egypt, Canada, LATAM, UAE & India.
We have supported not only the existing code base but also built the core frameworks from scratch. Employee Recognition – Anoma Tech provides services in a wide variety of technologies which also include Mobile product development, Web Development, Quality assurance, and DevOps tech stacks for all scales of companies.
If you'd like to learn more please visit our website for more related blogs.