September 13, 2022
Posted by:

Author Anoma

Categories: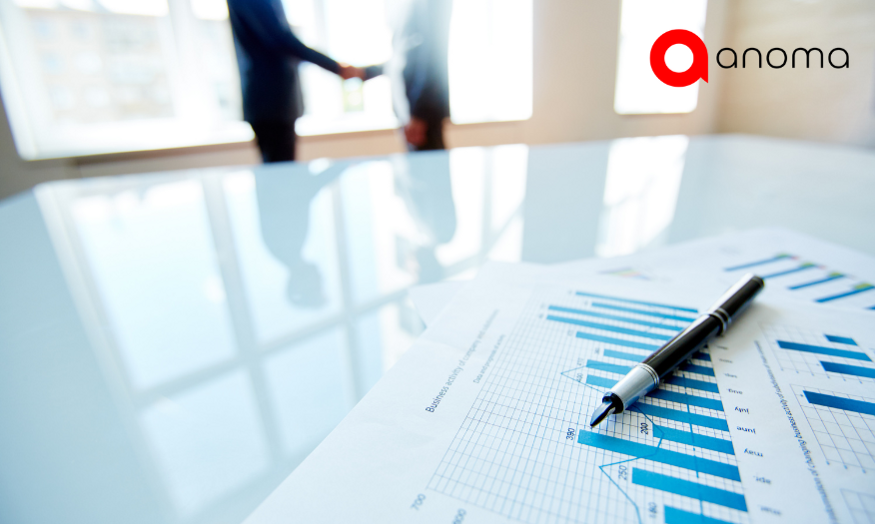 " Business strategy is the battlement for a better future '' — Patrick Dixon
According to popular belief, information technology is a necessary expense that is solely the responsibility of the IT department. This way of thinking has led to a schism between Digital Business Strategy – Anoma Tech The goal of technology alignment is to close this gap by deploying and managing IT systems and processes in accordance with business strategy.
While you'll never achieve perfect alignment, the steps below will help ensure you're on the right track:
1. Determine key business drivers:
The adoption of new technologies requires senior management buy-in now more than ever. The first step is to identify the critical business imperatives driving IT. To put it another way, you must determine which business drivers require Digital Business Strategy – Anoma Tech to function properly.
For example, if the company is launching a new product, a new fulfillment system may be required. And, because business needs are constantly changing, it's critical to review your key business drivers on a regular basis.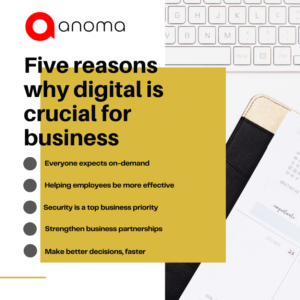 " A satisfied customer is the best business strategy of all '' — Micheal Leboeuf
2. Create an innovative culture:
The next step is to dispel the widespread misconception that IT is solely the domain of the IT department. Because senior management will select technologies based on business goals, and employees and customers will be the end-users of those technologies, it is critical that you foster an innovative culture throughout the organization.
CIOs should create a vision that outlines the goals and communicates the benefits of Digital Business Strategy – Anoma Tech in the workplace to each department.
3. Analyze your IT maturity:
Working toward technology alignment does not imply rejecting everything you have in place. It is all about long-term strategic planning and continuous improvement. Before you can choose the best processes and solutions, you must first assess your current situation.
There are probably some things that are already working well and others that could be improved. When assessing your IT maturity, the three main areas to consider are budget, assets, and organizational structure.
4. Identify any barriers to innovation:
The next step is to identify and isolate anything that could stifle innovation. Again, think about your budget, assets, and business processes. Lack of in-house expertise, outdated or incompatible systems, and budgetary constraints are all common barriers to innovation.
To drive a culture of change, you must first become acquainted with what currently works and what does not. You can then create a list of problems to assist you in selecting the best solutions and prioritizing your initiatives.
" The only place success comes before work is in the dictionary '' — Vince Lombardi
5. Set priorities for your IT initiatives:
Every organization has limited resources, and achieving technology alignment will not happen overnight. In fact, it is an ongoing process that evolves in response to market demands. Because some fixes are more difficult and time-consuming to implement than others, it's critical to prioritize carefully to avoid overburdening your team or, worse, risking unplanned outages.
For example, the rollout of any systems required for an upcoming product launch must be prioritized.
6. Consider your implementation options:
It is now time to select the technology solutions that will achieve alignment. This is possibly the most difficult step of all because there are so many options available. If you're migrating to the cloud, for example, you'll have to choose between public, private, and hybrid deployments, as well as the major cloud providers.
When evaluating your options, consider how well they would integrate with your existing systems and whether they would necessitate any costly or difficult-to-implement dependencies or other radical changes.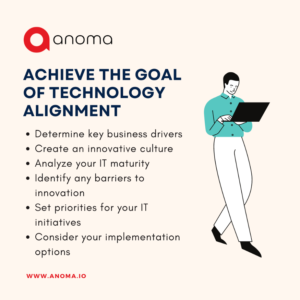 7. Make a migration strategy:
Finally, create a roadmap of steps, deliverables, deadlines, and responsibilities that align with your operational goals and priorities. Any contingencies should be factored into migration planning. When transporting large amounts of critical business data, it's critical to plan for the unexpected, such as unplanned downtime, potential security issues, and incompatibilities.
Your Digital Business Strategy – Anoma Tech should be flexible, as there will always be new things to learn once implementation begins.
" Strategy is a pattern in a stream of decisions '' — Henry Mintzberg
Digital Business Strategy – Anoma Tech
At Anoma tech, We employ the most talented top-tier resources in the USA and also across the globe primarily in Egypt, Canada, LATAM, UAE & India.
We have supported not only the existing code base but also built the core frameworks from scratch. Anoma Tech Inc. provides services in a wide variety of technologies which also include Mobile product development, Web Development, Quality assurance, and DevOps tech stacks for all scales of companies.
If you'd like to learn more please visit our website for more related blogs.