September 23, 2022
Posted by:

Author Anoma

Categories: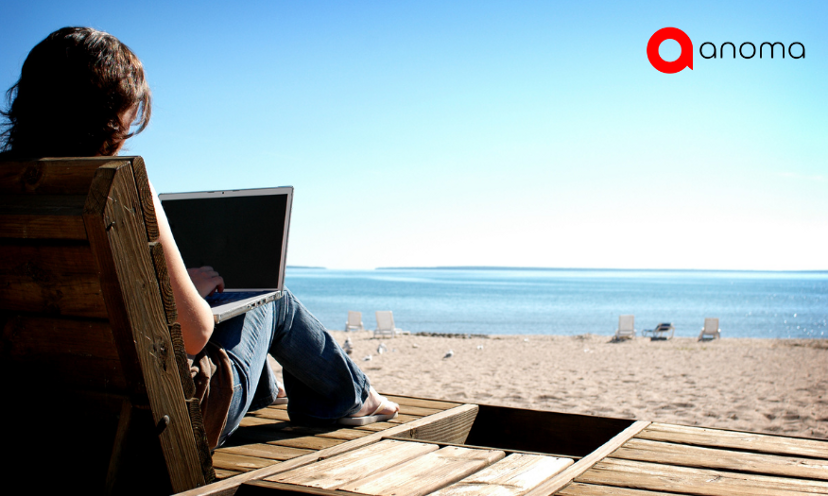 " Home is where I work and I work everywhere '' — Alfred Nobel
Workers at all levels are reporting increased levels of job-related stress. Most of us understand that excessive stress is unhealthy, but we're not always sure how to effectively limit it, especially in a work environment where so much is beyond our control.
Many professionals are turning to remote work as a solution. Gaining control over a large portion of their Work from Anywhere – Anoma Tech has significantly reduced the impact of work stress on their overall well-being. If you're feeling overburdened, consider the relief that a remote role could provide,
1. Managing Work-Related Stress:
When considering the advantages of working remotely, many people focus on the more tangible benefits, such as avoiding traffic and saving money on lunch. However, remote work has the potential to provide less obvious benefits in terms of stress reduction.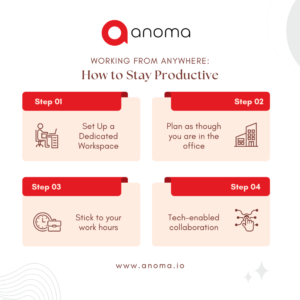 2. Significantly improve your commute:
Let's begin with the most obvious. "I love being stuck in traffic," is a phrase rarely, if ever, heard from commuters anywhere. In reality, being helpless and trapped in traffic as the minute's tick by is a terrible way to start the day. Even worse are the days when there is construction or an accident and you have a morning meeting! Your meeting is forming before nine o'clock in the morning, not to mention the morning rush to get out of the house. That is far from relaxing.
" Working from anywhere is worth a hundred thousand dollars just on its own — because of freedom and its time saving '' — Erik Allebest
3. Find Unexpected Opportunities to Improve Your Health:
There are numerous tried-and-true daily health tips that experts from various disciplines recommend. This includes taking advantage of your breaks to go for a walk, packing a healthy lunch rather than relying on fast food, and performing simple breathing or stretching exercises at your desk to stay focused and relaxed throughout the day. While these suggestions may appear simple, they can be more difficult to implement when working in an office.
Instead of reaching for unhealthy fast-food options, use this time to prepare a wholesome lunch packed with fresh, nutritious ingredients. In this sense, having a home office can provide tremendous benefits in terms of reducing stress and staying healthy and energized throughout the day.
4. Cut Schedule Friction:
One of the most significant benefits of Work from Anywhere – Anoma Tech is the ability to choose a flexible schedule. Even if you don't have a flexible schedule, you'll often find that your personal commitments blend in with your professional obligations much more easily. For example, you could schedule your day around your children's school drop-off and pick-up times, go to the gym during your lunch break, or attend a necessary appointment without being distracted by nosy co-workers.
Working late one night, taking a long midday break the next, or experimenting with different work schedules to find the one that best fits your lifestyle, remote work allows you to be much more in control of your days. Finally, the flexibility of Work from Anywhere – Anoma Tech makes it an excellent option for anyone looking for a career that works with their busy lives rather than against them.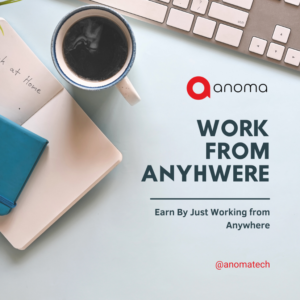 " To work anywhere is just fun '' — Dale Murphy
5. Remove Workplace Stressors:
The traditional office setting can be a source of anxiety and stress for many people. The constant buzz of activity, phone ringing, and co-worker chatter can all contribute to sensory overload. For people with sensory processing disorders or those who struggle to focus in the midst of the external commotion, this can be extremely overwhelming.
Working remotely, on the other hand, generally allows for a quieter, more subdued environment, reducing the likelihood of sensory overload and the associated feelings of stress and anxiety.
6. Making Your Workplace the Healthiest Possible
If you want to reduce your work-related stress, consider trying out remote work. The obvious benefits, such as eliminating a stressful commute and having the ability to choose ergonomically correct furniture, are obvious, but eliminating less obvious sources of stress can be just as effective. You may find that by removing yourself from an environment that causes unnecessary physical and emotional stress, you will be more productive and happier in all aspects of your life.
If you're ready to learn more about the many advantages that a remote or flexible schedule can provide, take the time to read our blogs.
At Anoma Tech, We employ the most talented top-tier resources in the USA and also across the globe primarily in Egypt, Canada, LATAM, UAE & India.
We have supported not only the existing code base but also built the core frameworks from scratch. Anoma Tech Inc. provides services in a wide variety of technologies which also include Mobile product development, Web Development, Quality assurance, and DevOps tech stacks for all scales of companies.