October 10, 2022
Posted by:

Author Anoma

Categories:
" Successfully working from home is a skill, just like programming, designing, or writing. It takes time and develops that skill '' — Alex Turnbull
A company culture fosters important Social Bonding – Anoma Tech among employees, and it is what makes you feel like you are part of a larger vision and picture. The emphasis on developing a company culture is even greater in the remote world.
We can't rely solely on physical proximity to our co-workers to foster social bonds and foster a shared culture. More effort is required, but the results can be even greater than in a typical office setting.
Because so much of this is dependent on the bonds formed between team members and managers, company culture in the remote Social Bonding – Anoma Tech has a formidable foe: loneliness. It's a common problem because we work remotely and are separated from our co-workers.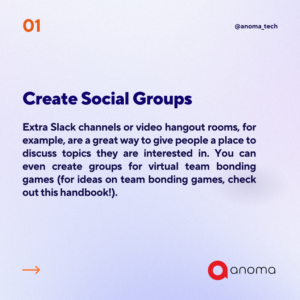 In Buffer's State of Remote 2019 / 2020 report, loneliness ranks second on the list of struggles reported by remotes. It also appears to be a problem that will persist year after year. Creating bonds among team members, checking in on each other, and looking after your colleagues are critical in reducing the loneliness that some of us experience. But how do we do this when your teammate is on the other side of the world?
" Remote work offers flexibility, and we appreciate work-life-balance that comes with that '' — Jess Scott
Consider Creating Social Groups:
A key goal in improving, creating, and strengthening your team's social bonds is to try to replicate the kinds of social activities that occur more naturally in the office. We frequently discover that we have things in common with people on our team or in our office over time. This could be over a quick coffee or during your lunch break.
So, to make this happen in the remote office, we need to be a little bit creative. We simply do not have easy access to the natural socializing times that occur in a co-located office. Examine the communication tools you're already using and the best ways to use what you're already doing to your advantage.
Extra Slack channels or video hangout rooms, for example, are a great way to give people a place to discuss topics they are interested in. You can even create groups for virtual team bonding games (for ideas on team bonding games, check out this handbook!). Hopefully, you already know what your team members enjoy, but if you don't, a quick poll or email will help you find out.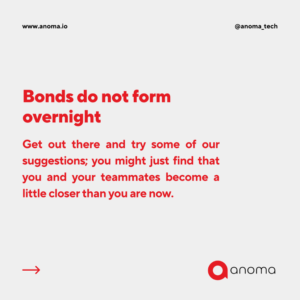 Nominate an employee to be in charge of these groups:
So, after you've set up your chat rooms, that's it? In a nutshell, no! Someone must take responsibility for what you've created. Without this, take-up and enthusiasm will be inadequate.
I'm sure we've all seen it happen with work WhatsApp or messaging groups in the past. Everyone will find the experience more authentic and likely to want to participate if you find a non-biased party who wants to monitor and look after the groups of their own free will.
" Remote work open ups opportunities for companies to go beyond hiring locally and dive into a greater talent pool '' — Sharan Koifman
Look for someone to champion the discussions who:
Is not a member of the management team.
Has the best interests of the entire team in mind, rather than just their team.
Is compassionate, sympathetic, and understanding of your employees' wants, needs, and expectations.
Is an advocate for your company's culture and truly embodies your values?
Everyone in the company believes in him.
Small Movements You Can Go a Long Way:
Another way to assist people in developing Social Bonding – Anoma Tech is to remember the little things that can easily go unnoticed in an office. Wedding anniversaries and birthdays are simple to track in your HR software or Google calendar.
Nothing makes you feel more appreciated than when people remember your birthday or an important event without prompting. To seal the deal, send them something, such as a gift card or a small present, to their address! It's a small gesture, but the impact is enormous.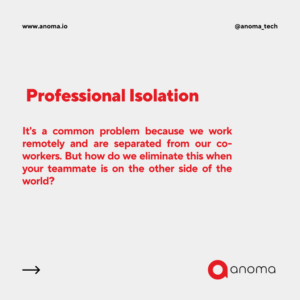 Peer-to-Peer Recognition Program:
Everyone wants to know that they are appreciated for their efforts. Every day, we should try to make a point of thanking someone for their efforts in front of the rest of the team. You can, however, make this a more formal part of your company culture.
Everyone enjoys feeling appreciated, and people, in general, enjoy giving praise and making others feel good. A weekly peer-to-peer appreciation program is a quick and easy way to make us all feel like we're part of inclusive remote company culture.
" Motivating employees to work at their full potential is the main premise of successful management '' — Eraldo Manovac
Consider a Meetup in Real Life:
Increasing your team's engagement with each other and the company is also a good way to establish good working relationships and feel like you are part of a true remote company. While we can all accomplish a lot through online mediums (something we remotes excel at!), physically meeting your team can also help everyone bond together.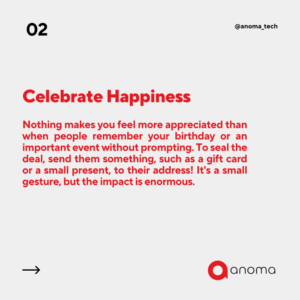 Due to the current situation with the COVID-19 pandemic, this may not be possible, but keep this option in mind. In a short period, there is a lot to be gained for both friendships and professional relationships
Hold a weekly video question and answer session:
Engaging with managers and other teams every week as a whole company allows everyone to get to know each other better. Running these sessions is also an easy way to build trust in virtual teams, as it's easy to believe that managers are more unaccountable when you don't meet with them regularly.
Most people work in small groups or closely with only a few other people. Setting aside some time each week for people to ask questions about what everyone is up to or whatever is on their mind is a surefire way to build Social Bonding – Anoma Tech
We discover more about each other, and how everyone thinks, and hopefully find some interesting answers along the way. When this doesn't happen, you're just asking for silos that are difficult to break down.
Bonds do not form overnight:
As a general rule, it is critical for us in the remote world to devote sustained effort to creating and shaping the culture we desire. Developing strong bonds is no different, and we must want it more than our co-workers. We shouldn't put it on the back burner because it's part of the best practices for Social Bonding – Anoma Tech
It's easier to hide away in your home office, but that's a sure way to avoid properly engaging with and getting to know your teammates. We all choose remote work for a variety of fantastic reasons and benefits. But, to truly benefit from everything, it has to offer, some sacrifices must be made.
There is no doubt that stronger Social Bonding – Anoma Tech relationships among all employees result in a happier, healthier, and more productive workforce. Get out there and try some of our suggestions; you might just find that you and your teammates become a little closer than you are now.
At Anoma Tech, We employ the most talented top-tier resources in the USA and also across the globe primarily in Egypt, Canada, LATAM, UAE & India.
We have supported not only the existing code base but also built the core frameworks from scratch. Anoma Tech Inc. provides services in a wide variety of technologies which also include Mobile product development, Web Development, Quality assurance, and DevOps tech stacks for all scales of companies.