October 17, 2022
Posted by:

Author Anoma

Categories: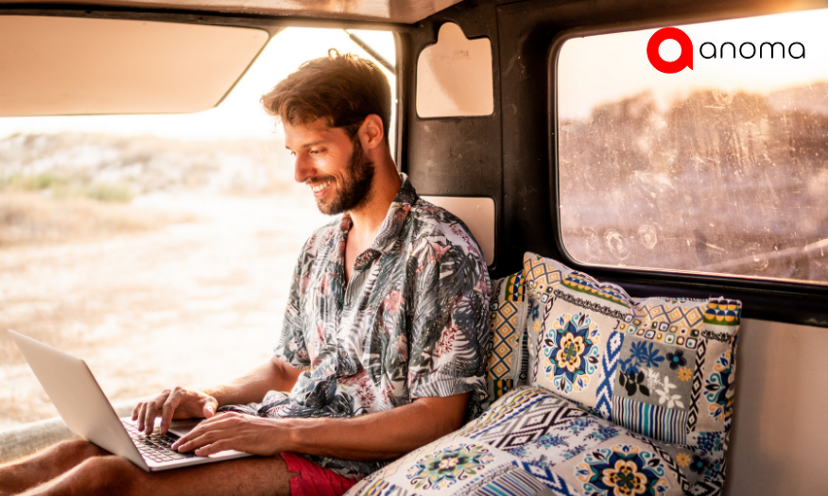 Understanding the significance of maintaining a Work Life Balance – Anoma Tech healthy will motivate anyone to take the necessary steps to achieve this balance. Work-Life balance is beneficial to both employees and organizations. A healthy balance of work and personal life contributes to increased employee productivity, morale, and health.
Work-life balance should be a top priority for all of us. An imbalance in any of these areas will make life difficult and pose a number of risks or challenges in terms of health, happiness, and emotional stability.
The advantages of work-life balance are listed below,
Fulfilments: People who maintain a balance between Work Life Balance – Anoma Tech  life feel fulfilled and content in their lives.
Health: A well-balanced Work Life Balance – Anoma Tech  will help to reduce health-related complications and the risk of various serious heart diseases, hypertension, stress, and lifestyle-related ailments.
Increased Productivity: A better work-life balance will boost employee productivity and performance.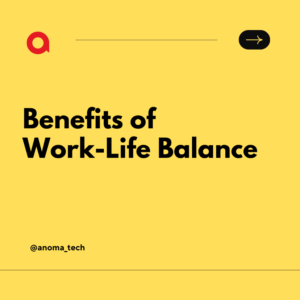 Relationship Strengthening: Work-life balance promotes collaboration in both professional and personal relationships. When there is a balance between the two, conflicts are better addressed.
How can productivity be increased?
Contrary to popular belief, long working hours will result in a decrease in overall productivity. Similarly, studies show that people who work with short breaks are more productive than those who work for long periods of time without a break.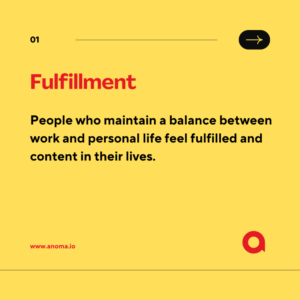 Productivity can be increased by following the steps outlined below:
Taking regular breaks during working hours. Meditation, relaxation or breathing techniques, and stretching all contribute to better mental and physical health.
Spending time on entertainment during breaks: According to studies, spending some time on entertainment such as net surfing and leisure time activities during short breaks can increase productivity by 9%.
Taking off: Working excessively long hours is neither healthy nor desirable, as the consequences can be fatal. One should not pass up the opportunity to plan and distribute their vacation time, as studies show that people who spend quality time vacationing are more productive than sloggers.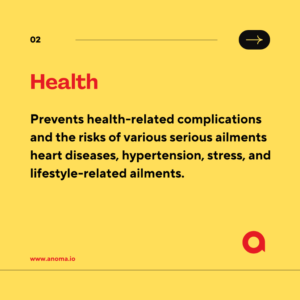 Work-Life Balance Culture Provides Organizational Benefits:
Employee time savings: By fostering a supportive and conducive work culture, organizations can achieve higher productivity from their employees and assist them in better planning and utilizing their time by setting clear priorities.
Employee Retention: Work Life Balance – Anoma Tech initiatives may not only increase the percentage ratio of employee retention but also contribute to a reduction in the extra costs that an organization may incur as a result of an employee exit or turnover.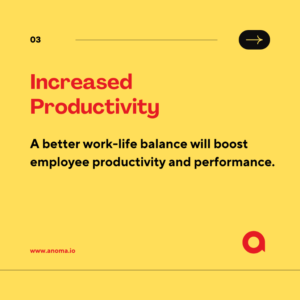 Increase employee motivation and morale, as well as their commitment to the job. According to studies, motivated employees are more productive and provide the best support in the professional journey of the organization.
Absenteeism reduction: Studies show that work-life balance programs, when implemented effectively by an organization, can reduce absenteeism by nearly 50%.
Build a Loyal Workforce: Employee-friendly policies or programs that support the overall well-being of employees will undoubtedly aid in the development of a loyal and committed workforce.
Work-life balance is critical for every employee, and any imbalance will result in a slew of problems for both the employee and the organization. An organization can reap the benefits of improved employee productivity, lower turnover rates, and achieve various cost savings by providing the necessary support and assistance in the form of employee-centric policies and work-life programs.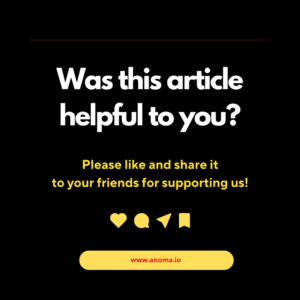 Managers should encourage employees to take advantage of company policies and encourage them to use their official leave. Some businesses have successfully launched wellness programs, including stress management and work-life balance workshops.
At Anoma Tech, We employ the most talented top-tier resources in the USA and also across the globe primarily in Egypt, Canada, LATAM, UAE & India.
We have supported not only the existing code base but also built the core frameworks from scratch. Anoma Tech Inc. provides services in a wide variety of technologies which also include Mobile product development, Web Development, Quality assurance, and DevOps tech stacks for all scales of companies.