October 18, 2022
Posted by:

Author Anoma

Categories: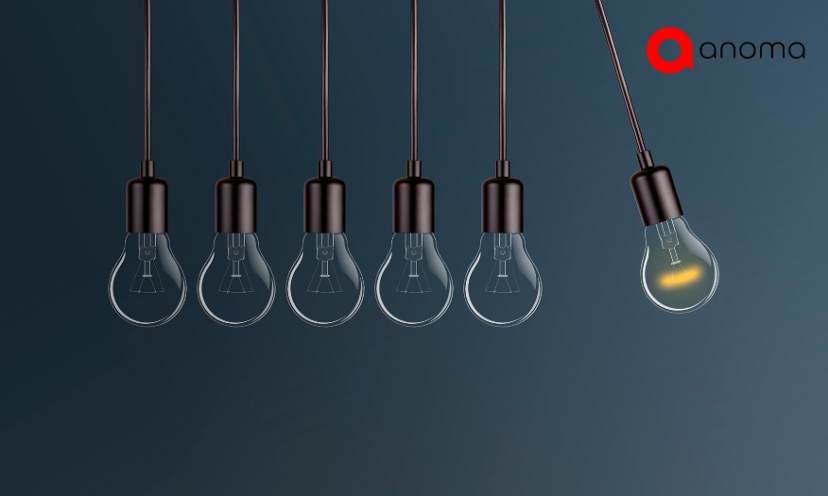 " Creativity is thinking up new things. Innovation is doing new things '' — Theodore Levitt
Because of the rise of digital and social media, the business world has changed dramatically in recent years. It is no longer sufficient for a company to be good at what it does; it must also respond quickly and efficiently when new opportunities arise. This has forced businesses to become more agile, open-minded, innovative, and collaborative than ever before.
In this article, we will discuss how businesses can drive Innovation at work – Anoma Tech by implementing strategies like clear goals, shared responsibility, diverse perspectives, and effective communication.
To begin, it is critical to establish clear goals for what you want to achieve in order to guide the innovation process. Companies should ask themselves questions like "What are our short-term goals?" "What are our long-term goals?" and "How do we align our existing business strategy with these goals?" as part of this process.
Companies can foster an environment conducive to Innovation at work – Anoma Tech by having a clear vision and set of goals.
Second, it is critical to distribute responsibility for driving innovation throughout the organization. This means that everyone, from the CEO to the most junior employees, must come up with new ideas. According to Jonathan Osler, this can be accomplished by fostering an innovative culture within the organization and cultivating a positive environment through effective communication.
" Innovation is the calling card of the Future '' — Anna Eshoo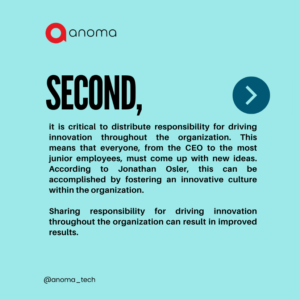 Sharing responsibility for driving Innovation at work – Anoma Tech throughout the organization can result in improved results. Everyone is invested in developing new ideas and has a say in which ones are implemented.
Third, when working toward a common goal, it is critical to bring together people from various backgrounds and perspectives. This can be accomplished by hiring individuals with diverse educational backgrounds, experiences, and skill sets. Companies can come up with innovative solutions that they may not have thought of otherwise by bringing together individuals with diverse perspectives interested in driving innovation.
" Innovation is the only way to Win '' — Steve Jobs
Furthermore, these employees are more creative because their experiences have given them insight into different approaches to problems.
Fourth, it is critical to effectively communicate with all company members in order to foster a positive and open environment. This entails openly sharing information, soliciting input from others, and responding to feedback.
Companies can ensure that everyone is on the same page and understands what is expected of them by communicating effectively. This also enables the company to remain agile and grow in an ever-changing environment.
" Innovation is the unrelenting drive to break the status quo and develop anew where few have dared to go ''
Finally, businesses must experiment and take risks in order to generate innovative ideas for expanding business opportunities. By taking risks when trying new things, businesses can quickly determine which ideas are worth pursuing further and which should be abandoned. It is important to note that not all ideas will succeed, which is fine as long as the company learns from its mistakes.
To summarise, businesses can drive innovation by implementing clear goals, shared responsibility, a diverse set of perspectives, and effective communication. By doing so, they can foster a culture of creativity and new ideas.
Anoma Tech has been developing and implementing strategies for increasing productivity through employee motivation and process improvement.
At Anoma Tech, We employ the most talented top-tier resources in the USA and also across the globe primarily in Egypt, Canada, LATAM, UAE & India.
We have supported not only the existing code base but also built the core frameworks from scratch. Anoma Tech Inc. provides services in a wide variety of technologies which also include Mobile product development, Web Development, Quality assurance, and DevOps tech stacks for all scales of companies.