November 7, 2022
Posted by:

Author Anoma

Categories: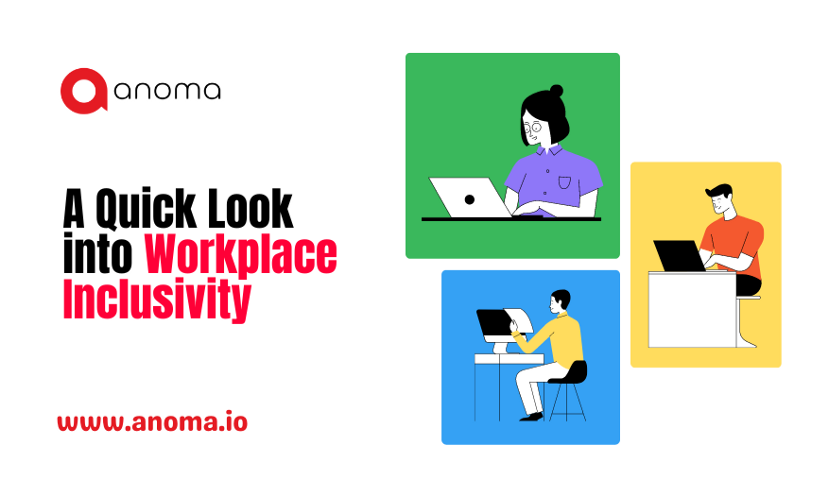 " Pleasure in the job puts perfection in the work '' — Aristotle
Workplace Inclusivity – Anoma Tech can be measured by a sense of belonging, connection, and community. It all comes down to how connected you feel to your workplace and the people around you. An organization that has mastered inclusion encourages employees to bring their "whole selves" to work.
Despite the fact that many businesses are moving toward more inclusive and diverse workforces, there is still much work to be done. Continue with the understanding that communication and involvement are the most important factors in promoting diversity.
This is what makes inclusion real: expressing different points of view and feeling connected to others.
" A team is not a group of people that work together. A team is a group of people that trust each other '' — Simon Sinek
Here are some simple steps a business leader can take to promote inclusive company culture,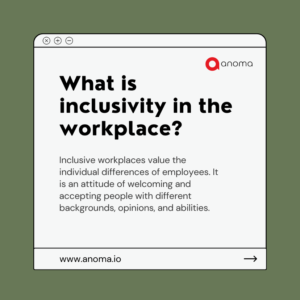 1. The Effects of Inclusion on Employee Happiness and Engagement:
Can you imagine feeling good and living with meaning if you didn't feel valued at work? Or if you didn't feel comfortable being yourself at work? What if your boss dismissed you? These are real questions, and they arise more frequently in the workplace than you might think. Inclusion, happiness, and engagement are all linked. And all three are required to cultivate a truly inclusive workplace.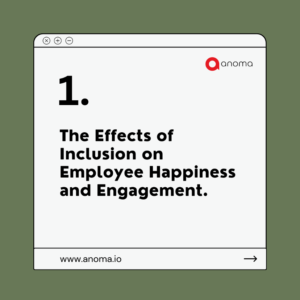 2. Making It Possible for Employees to Be More Inclusive:
An inclusive Workplace Inclusivity – Anoma Tech, collaboration, openness, fairness, curiosity, accountability, and much more. Take a look at these seven components of inclusion, as well as some tips for creating an inclusive workplace:
Provide employees with the resources they need to be inclusive. Natural and valuable solutions, whether through employee resource groups or technology, are simple starting points for influencing individual behaviors.
3. Having a voice:
Employees must believe they have a say in decisions that affect their work. Leaders and managers should also look for proactive ways to give employees a voice.
" Productivity is never an accident. It is always the result of a commitment to excellence, intelligent planning, and focused effort '' — Paul J. Meyer
Have informal conversations, focus groups, or weekly surveys that measure or address inclusion. Make it clear to employees that this is not a taboo subject and that your door is always open.
4. Acceptance and value for who you are:
Individuals must feel connected to a larger cause while also being recognized for their uniqueness. Employees must believe that their organization values the unique perspectives and skills they bring to the workplace.
Have deliberate conversations with your employees in which you not only recognize but also explain why you value them and their great work. Recognize them on an individual basis for specific accomplishments or even small victories to demonstrate that you truly care and are invested in their success.
5. Learning and development:
Employees must believe they have the opportunity to advance their careers at their company. Employee growth and innovation will be stifled if learning and development are not prioritized as a component of inclusion and broader company values.
" Success seems to be connected with action. Successful people keep moving. They make mistakes, but they don't quit '' — Conrad Hilton
Give employees the opportunity to further their professional and personal goals by supporting further education, learning a new skill, or developing a hobby or passion, whether it takes time, money, or encouragement.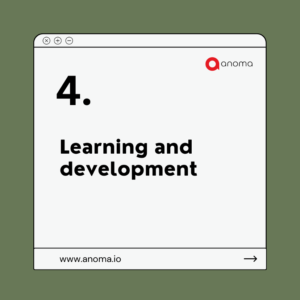 The bottom line when it comes to encouraging workplace diversity and belonging,
It takes time and effort to promote workplace diversity and inclusion. You must have a specific plan in place and dedicate the necessary resources to implementing changes that affect hiring and day-to-day team interactions. Employers can begin by surveying current employees to learn about their attitudes and what can be done to improve DEI. Investing more in cultural programs will not only improve the Workplace Inclusivity – Anoma Tech it will also increase productivity and positively impact the company's bottom line.
Read more at www.anoma.io