December 9, 2022
Posted by:

Author Anoma

Categories: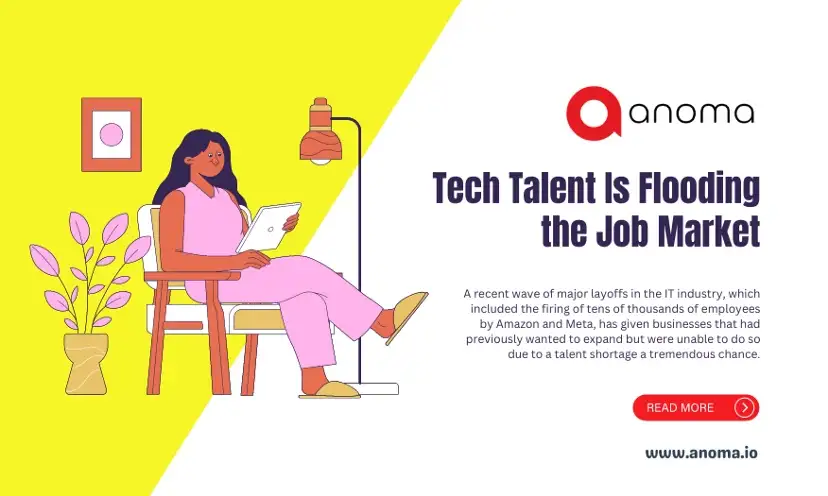 " What new technology does is create new opportunities to do a job that customers want to be done. " — Tim O'Reilly
A recent wave of major layoffs in the Technology Talent – Anoma Tech which included the firing of tens of thousands of employees by Amazon and Meta, has given businesses that had previously wanted to expand but were unable to do so due to a talent shortage a tremendous chance. Traditional businesses that once struggled to update their operational procedures now have access to some of the world's top personnel.
The same traditional businesses that previously had no way to compete with the slick Silicon Valley recruiters may suddenly pounce and offer career lifelines to fired tech professionals.
According to the US, traditional businesses now have a fantastic opportunity as a result of the recent layoffs. They may get fresh talent in a less competitive market by hiring from the past ranks of the top
digital companies in the globe.
 This talent can assist them in transforming their inflexible business models into 
digitally agile
 ones in order to get ready for the increasingly volatile business conditions.
We explain the causes of these layoffs in this article,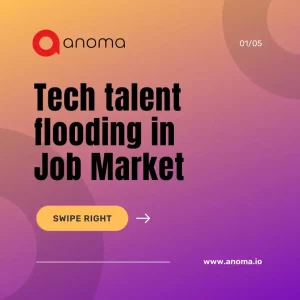 An End to Overhiring:
We are seeing a widespread repudiation of the excessive employment that occurred during the outbreak. In a note to staff members about recent layoffs, Meta CEO Mark Zuckerberg stated: "At the beginning of Covid, the world quickly shifted online and the explosion of e-commerce led to outsized revenue growth. Many individuals forecast that this acceleration would be ongoing long after the outbreak.
" Let's go invent tomorrow instead of worrying about what happened yesterday. " — Steve Jobs
Similar reasoning for a 14% employee decrease was provided by Patrick Collison, CEO of Stripe: "At the start of the epidemic in 2020, the world pivoted overnight towards e-commerce. When compared to what we had previously seen, the growth rates in 2020 and 2021 were noticeably greater. Now, the world is changing once more.
A Chance for Traditional Businesses to Modernize:
The epidemic also marked a shift in how corporations run. Organizations came to the realization that their business processes needed to change for the better. For instance, remote work calls for more than just hosting Zoom sessions from home. Managers may now run an entire bank's currency trading platform from their homes just as effectively as they do from a corporate office.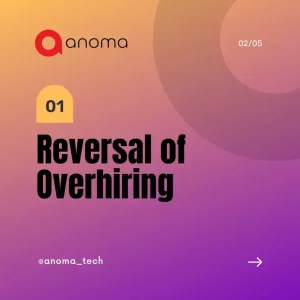 New human resources systems, reorganized workflows, new and updated e-commerce platforms, advancements in engineering, enhanced cyber security, and other changes are needed to support this permanent and deeper transition towards hybrid work. Companies that failed to develop these systems in time for the pandemic can now benefit from a talent flood to demonstrate how it can be done.
An aspiring, young software engineer would have been more likely to join a cryptocurrency exchange than the online store of a brick-and-mortar business a year ago. A brick-and-mortar retailer or any other business with strong fundamentals that have not fully modernized can now outcompete internet companies in hiring the expertise it needs since tech companies are cutting workers.
" The great growling engine of change is technology. " — Alvin Toffler
Who Should Your Company Employ?
Technology Talent – Anoma Tech should concentrate on hiring personnel who can assist them with the following tasks: automating customer service, automating the transition to a remote workforce, analyzing, and improving the customer journey, automating employee performance management, enhancing supply chain management, and improving human resource planning.
Target, Nike, Home Depot, Hasbro, and Best Buy are examples of Technology Talent – Anoma Tech stories. Each time, whether the transformation initiatives were successful
If you work for a traditional company, you should take advantage of the recent layoffs to look for candidates with the following qualifications:
DevOps
Customer experience
Cloud
Automation
Product and platforms
Data management, and
Cybersecurity and privacy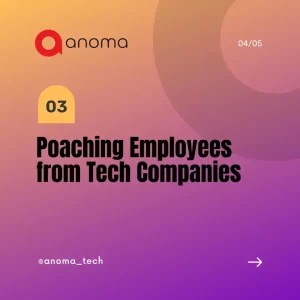 Poaching personnel from tech firms:
There are other sources of talent besides recently laid-off workers. Additionally, employers should consider luring workers who are still employed but wish to quit precarious roles at digital firms. Employees are now searching for stable employment alternatives as tech corporations eliminate R&D and new initiatives, reduce head numbers, lower employee wages, and bonuses, and as falling stock values submerge stock options.
Only H-1B Visas are permitted for tech employees from nations like China and India to remain in the United States. If they lose their jobs, they have 60 days to find new employment, after which they must renounce their visa and leave the country.
" The technology you use impresses no one. The experience you create with it is everything. " — Sean Gerety
Invest in Failing Tech Companies:
Additionally, now is a good time for Technology Talent – Anoma Tech to buy tech companies and assets at fire sale rates, especially for businesses that are having trouble raising money to keep operating. Acquires, or purchases made purely for the purpose of acquiring talent, are one possible sort of acquisition. Some start-ups have patents that end up being useful assets for the buyer.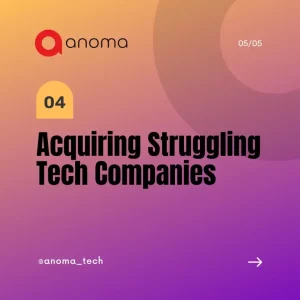 History has repeatedly demonstrated that those who seize opportunities and purchase the appropriate assets, clients, talent, and competencies at the appropriate prices emerge as winners during recessions and other difficult periods. One such occasion is the latest wave of layoffs.
Read more at www.anoma.io