May 16, 2023
Posted by:

Author Anoma

Categories: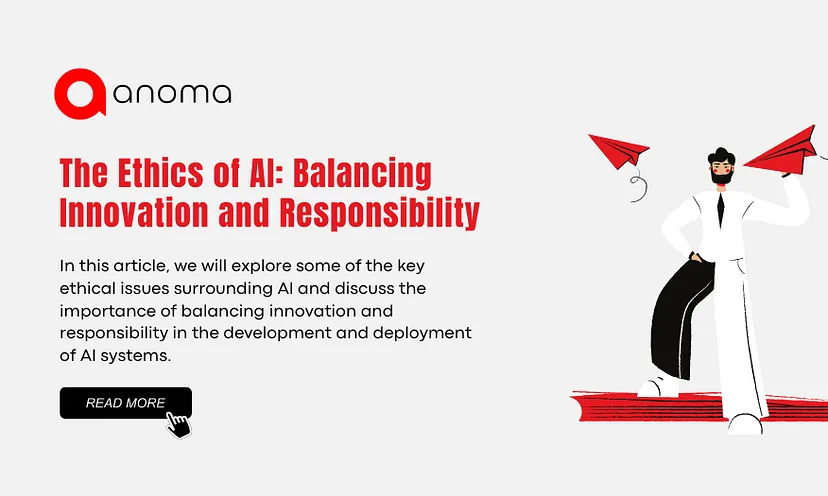 " Artificial intelligence would be the ultimate version of Google. The ultimate search engine that would understand everything on the web. '' — Larry Page
Artificial Intelligence (AI) – Anoma Tech has become a ubiquitous part of modern society, with applications ranging from virtual assistants to self-driving cars. While AI has the potential to revolutionize many aspects of our lives, it also raises important ethical questions that must be addressed.
As AI becomes more powerful and ubiquitous, it is essential to ensure that it is developed and used in a responsible and ethical manner. This requires a careful balance between innovation and responsibility, as we seek to harness the potential of AI while avoiding any negative consequences.
In this article, we will explore some of the key ethical issues surrounding AI and discuss the importance of balancing innovation and responsibility in the development and deployment of Artificial Intelligence (AI) – Anoma Tech
" Robots are not going to replace humans, they are going to make their jobs much more humane. '' — Sabine Hauert
Here are some of the key features related to the ethics of AI and their explanations:
Bias and fairness: Artificial Intelligence (AI) – Anoma Tech can inadvertently perpetuate biases and discrimination, particularly in areas such as employment, criminal justice, and healthcare. Ensuring that AI systems are fair and unbiased is essential to avoid perpetuating existing social inequalities. This requires careful consideration of the data used to train AI systems, as well as the development of standards and guidelines for fairness and transparency.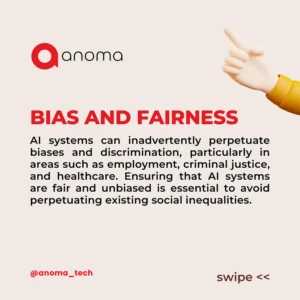 Privacy and security: AI systems often rely on personal data, which can be vulnerable to cyber-attacks and misuse. Ensuring the privacy and security of personal data is essential to protect individuals' rights and avoid potential harm. This requires the development of robust security measures, as well as clear guidelines and regulations around the collection, use, and sharing of personal data.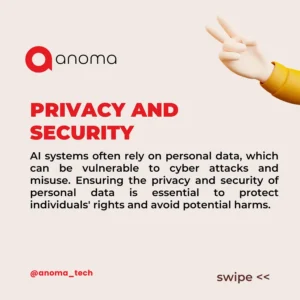 Accountability and transparency: As AI systems become more autonomous, it can be challenging to hold individuals or organizations accountable for their actions. Ensuring accountability and transparency is essential to avoid any negative consequences of AI systems. This requires the development of clear frameworks for responsibility and liability, as well as the provision of clear explanations for AI systems' decision-making processes.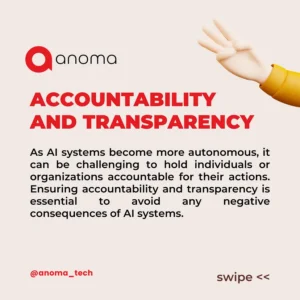 Human control and oversight: While AI systems can automate many tasks and processes, it is important to ensure that humans retain control and oversight over AI systems' actions. This requires careful consideration of the appropriate level of Artificial Intelligence (AI) – Anoma Tech decision-making processes, as well as the development of mechanisms for human intervention when necessary.
" Machine intelligence is the last invention that humanity will ever need to make. " — Nick Bostrom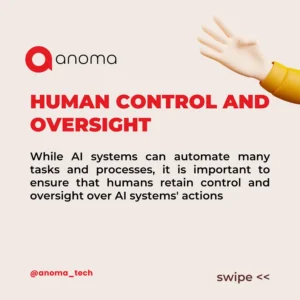 Ethical considerations: As AI becomes more powerful and ubiquitous, it is essential to consider the broader ethical implications of its use. This includes considerations around social impact, sustainability, and the potential for unintended consequences. It is essential to develop clear ethical frameworks and guidelines to ensure that AI is used in a way that benefits society as a whole.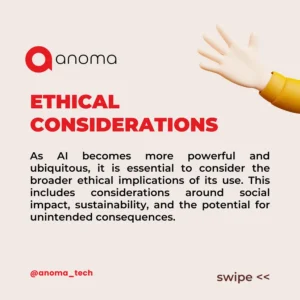 In conclusion, the topics of artificial intelligence, emotional intelligence, cloud computing, people management, and performance management are all critical areas for any technology firm to understand and master. By staying up-to-date with the latest trends and best practices in these areas, your company can drive innovation, improve customer experiences, and cultivate a thriving workplace culture.
If you're interested in learning more about these topics or exploring innovative solutions to help your business succeed, be sure to visit www.anoma.io for more information.
At Anoma, we're passionate about helping businesses harness the power of technology to achieve their goals, and we look forward to partnering with you on your journey to success.