June 2, 2023
Posted by:

Author Anoma

Categories: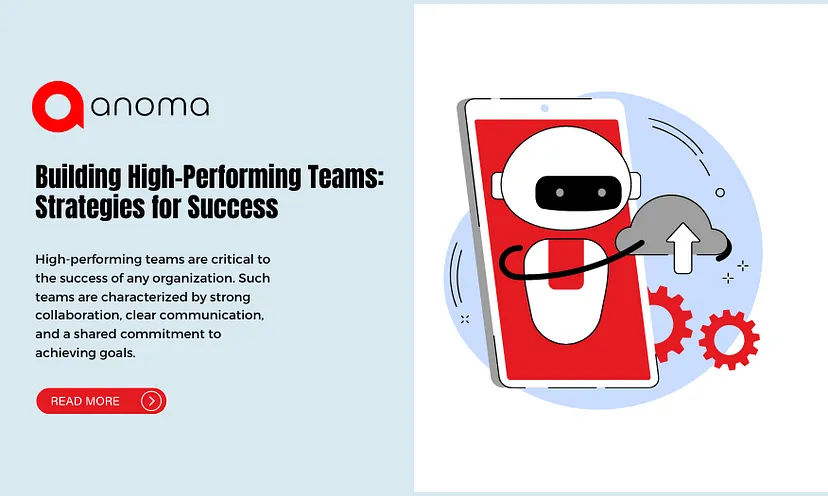 " Nothing is impossible, the word itself says 'I'm possible! " — Audrey Hepburn
Building High-Performing Teams – Anoma Tech is critical to the success of any organization. Such teams are characterized by strong collaboration, clear communication, and a shared commitment to achieving goals.
Building high-performing teams requires a deliberate effort on the part of leaders and managers to create an environment that fosters teamwork, encourages open communication, and supports individual growth and development.
In this way, organizations can leverage the collective skills and knowledge of their teams to achieve outstanding results and stay ahead of the competition.
Building High-Performing Teams – Anoma Tech requires a combination of strategies and techniques that are designed to optimize team dynamics, foster collaboration, and enhance productivity. Some of the key features of effective strategies for building high-performing teams include:
Clear Communication: Effective communication is essential for team success. Team members need to be able to communicate their ideas, thoughts, and concerns clearly and openly. This helps to ensure that everyone is on the same page and that the team is working towards the same goals.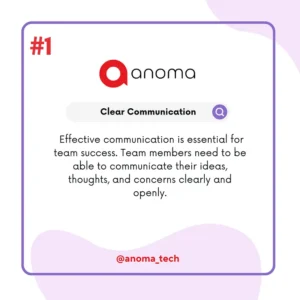 Defined Roles and Responsibilities: Each team member should have a clear understanding of their role and responsibilities within the team. This helps to minimize confusion and duplication of effort and ensures that everyone is working towards the same goals.
" Success consists of going from failure to failure without loss of enthusiasm. " — Winston Churchill
Collaboration and Cooperation: High-performing teams are characterized by a culture of collaboration and cooperation. This involves encouraging team members to share their ideas and expertise, and to work together towards common goals.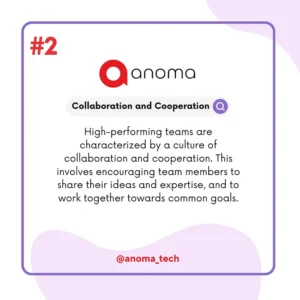 Continuous Learning and Improvement: Effective teams are always looking for ways to improve their performance. This involves encouraging team members to continually learn and develop their skills, and to share their knowledge and expertise with others.
Clear Goals and Objectives: High-performing teams have clear goals and objectives that are aligned with the organization's overall strategy. This helps to ensure that everyone is working towards the same outcomes and that the team's efforts are focused and effective.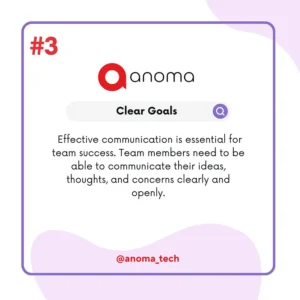 Effective Leadership: Effective leadership is essential for building high-performing teams. This involves setting clear expectations, providing support and guidance, and ensuring that team members have the resources they need to be successful.
Recognition and Reward: High-performing teams thrive on recognition and reward. This involves acknowledging team members for their contributions, celebrating successes, and providing incentives for continued performance improvement.
" In most things, success depends on knowing how long it takes to succeed. " — Montesquieu
Overall, building high-performing teams requires a combination of effective communication, clear roles and responsibilities, collaboration and cooperation, continuous learning and improvement, clear goals and objectives, effective leadership, and recognition and reward. By implementing these strategies and techniques, organizations can build teams that are capable of Building High-Performing Teams – Anoma Tech
In conclusion, the topics of artificial intelligence, emotional intelligence, cloud computing, people management, and performance management are all critical areas for any technology firm to understand and master. By staying up-to-date with the latest trends and best practices in these areas, your company can drive innovation, improve customer experiences, and cultivate a thriving workplace culture.
" Success is the child of audacity. " — Benjamin Disraeli
If you're interested in learning more about these topics or exploring innovative solutions to help your business succeed, be sure to visit www.anoma.io for more information.
At Anoma, we're passionate about helping businesses harness the power of technology to achieve their goals, and we look forward to partnering with you on your journey to success.