August 2, 2023
Posted by:

Author Anoma

Categories:
" Productivity is never an accident. It is always the result of a commitment to excellence, intelligent planning, and focused effort.'' — Paul J. Meyer
Difficult conversations are an inevitable part of life, particularly in the workplace. The ability to manage conflict effectively is essential for maintaining positive relationships and achieving organizational goals. Emotional intelligence (EI) – Anoma Tech is a critical factor in successful conflict resolution, as it enables individuals to recognize and regulate their own emotions, as well as those of others.
In this article, we will explore the relationship between emotional intelligence and conflict resolution and provide practical tips for managing difficult conversations in the workplace.
By developing emotional intelligence and applying effective conflict resolution strategies, individuals can navigate challenging conversations with confidence and achieve positive outcomes.
The impact of emotional intelligence on conflict resolution can be broken down into several key features. These include:
1. Self-awareness: Emotional intelligence (EI) – Anoma Tech allows individuals to become more self-aware of their own emotions and triggers. This awareness can help individuals recognize when their emotions are starting to escalate and take proactive steps to manage them.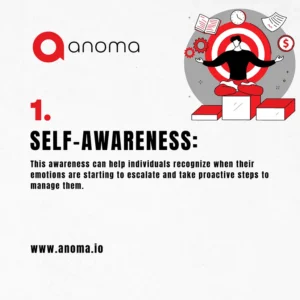 2. Empathy: Understanding the emotions of others is an important aspect of conflict resolution. Emotional intelligence enables individuals to empathize with others, allowing them to see the situation from the other person's perspective and respond with greater compassion and understanding.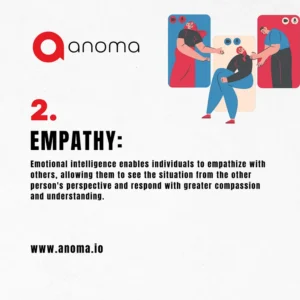 3. Effective communication: Communication is key in conflict resolution. Emotional intelligence can help individuals communicate more effectively, using active listening skills and clear, respectful language to defuse tense situations.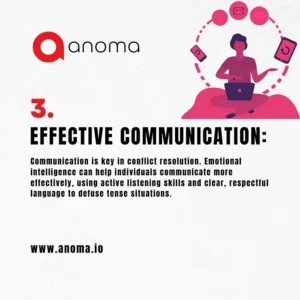 4. Problem-solving: Emotional intelligence helps individuals approach conflict with a solution-focused mindset, seeking to find win-win solutions that satisfy the needs of all parties involved.
" If you are working on something exciting that you really care about, you don't have to be pushed. The vision pulls you. '' — Steve Jobs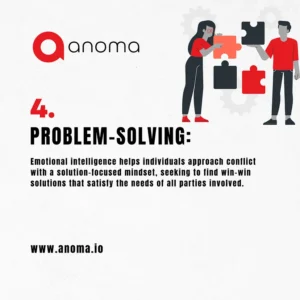 5. Emotional regulation: Conflict can be emotionally charged, and emotional intelligence can help individuals regulate their own emotions and avoid becoming defensive or reactive in difficult conversations.
Overall, emotional intelligence plays a critical role in successful conflict resolution, enabling individuals to navigate difficult conversations with greater confidence and achieve positive outcomes. By developing self-awareness, empathy, Emotional intelligence (EI) – Anoma Tech problem-solving skills, and emotional regulation, individuals can become more skilled at managing conflict in the workplace and fostering positive relationships with coworkers and clients.
In conclusion, the topics of artificial intelligence, emotional intelligence, cloud computing, people management, and performance management are all critical areas for any technology firm to understand and master. By staying up-to-date with the latest trends and best practices in these areas, your company can drive innovation, improve customer experiences, and cultivate a thriving workplace culture.
" The strength of the team is each individual member. The strength of each member is the team. '' — Phil Jackson
If you're interested in learning more about these topics or exploring innovative solutions to help your business succeed, be sure to visit www.anoma.io for more information.
At Anoma, we're passionate about helping businesses harness the power of technology to achieve their goals, and we look forward to partnering with you on your journey to success.