August 4, 2023
Posted by:

Author Anoma

Categories: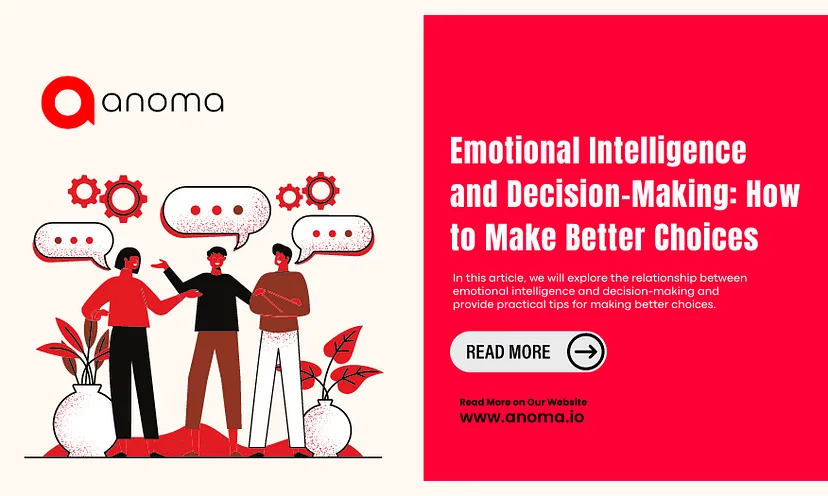 " If you are working on something exciting that you really care about, you don't have to be pushed. The vision pulls you. '' — Steve Jobs
Effective decision-making is a critical skill for success in both personal and professional life. Emotional Intelligence ( EI ) – Anoma Tech can play a significant role in improving the quality of decisions by enabling individuals to better recognize and manage their emotions, as well as those of others.
In this article, we will explore the relationship between emotional intelligence and decision-making and provide practical tips for making better choices.
By developing emotional intelligence and applying effective decision-making strategies, individuals can improve their decision-making skills and achieve better outcomes in both their personal and professional lives.
The impact of emotional intelligence on decision-making can be broken down into several key features. These include:
1. Self-awareness: Emotional intelligence enables individuals to recognize and manage their own emotions. This self-awareness can help individuals identify personal biases, values, and goals that can influence their decision-making.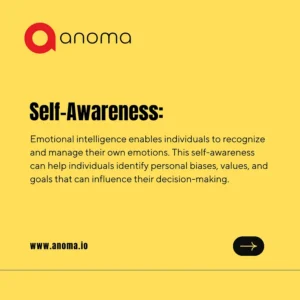 2. Empathy: Understanding the emotions of others is an important aspect of decision-making. Emotional Intelligence ( EI ) – Anoma Tech enables individuals to empathize with stakeholders, including coworkers, clients, and customers, allowing them to make decisions that take into account the needs and feelings of others.
" The strength of the team is each individual member. The strength of each member is the team. '' — Phil Jackson
3. Effective communication: Communication is key in decision-making. Emotional intelligence can help individuals communicate more effectively, seeking feedback and input from others and expressing their own ideas and opinions clearly and respectfully.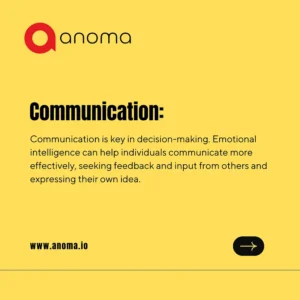 4. Problem-solving: Emotional intelligence helps individuals approach decision-making with a solution-focused mindset, seeking to find creative solutions that balance different perspectives and meet the needs of all stakeholders.
5. Emotional regulation: Decision-making can be stressful and emotional. Emotional Intelligence ( EI ) – Anoma Tech can help individuals regulate their own emotions, manage stress and anxiety, and avoid impulsive or reactive decisions.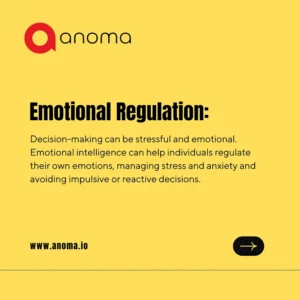 Overall, emotional intelligence plays a critical role in effective decision-making, enabling individuals to make better choices by developing self-awareness, empathy, effective communication, problem-solving skills, and emotional regulation. By applying these strategies to their decision-making processes, individuals can improve the quality of their decisions and achieve better outcomes in their personal and professional lives.
" Productivity is never an accident. It is always the result of a commitment to excellence, intelligent planning, and focused effort.'' — Paul J. Meyer
In conclusion, the topics of artificial intelligence, emotional intelligence, cloud computing, people management, and performance management are all critical areas for any technology firm to understand and master. By staying up-to-date with the latest trends and best practices in these areas, your company can drive innovation, improve customer experiences, and cultivate a thriving workplace culture.
If you're interested in learning more about these topics or exploring innovative solutions to help your business succeed, be sure to visit www.anoma.io for more information.
At Anoma, we're passionate about helping businesses harness the power of technology to achieve their goals, and we look forward to partnering with you on your journey to success.